NEUTRADOL are giving you the chance of winning a Three Month Supply of Flowers from Bloom & Wild plus a bundle of Neutradol Room Spray Products.
To get clean healthy fresh air you need to destroy bad smells. Bad odours are nasty to live with and tough to shift, which is why you need hygienic and safe to use Neutradol. Other big brand air fresheners just cover up bad odours with synthetic perfume. Using the latest science Neutradol destroys the molecules that cause bad odours and keeps on eliminating smells long after other air fresheners have stopped working.
Neutradol products are available in Original, Super Fresh and Fresh Pink fragrances. There are also products for smelly dustbins, Sniff 'n' Purr for pet odours and Deofab for fabrics. The latest new product from Neutradol is their ONE Disinfectant available in Relaxing Cotton, Water Cascade and Blush Bouquet.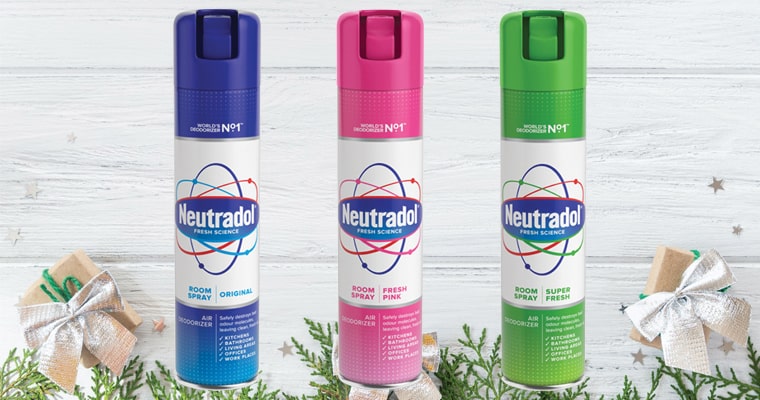 Visit our website at www.neutradol.com and follow us on Facebook, Twitter and Instagram.
If you like to bring freshness into your home, then thanks to Neutradol the fresh air specialists, with a product for every smelly situation, you could be celebrating the Festive Season with a three month supply of beautiful flowers from Bloom and Wild plus a bundle of Neutradol Room Spray products.
A great gift to brighten your home through the winter months.
For your chance to enter, simply answer the question and pop in your details below!

This competition has now ended

UK Residents 18+ only
Prize: Win a Three Month Supply of Flowers from Bloom & Wild plus a bundle of Neutradol Room Spray Products.
To enter: Complete the form to the left.
Closing Date: 09:00 on Wednesday 1st December 2021. Entries received after Closing Date/Time will not be submitted into the draw.
All fields that are stated as mandatory within the form will need to be completed.
Please note Aerosols are no longer permitted to be sent overseas by mail or courier to the Isle of Man, Ireland & the Channel Islands. If in the event a resident of these locations is selected as the winner, other Neutradol non aerosol products will be sent as replacements to the same value.
Promoter: Winning Moments t/as Rebecca Garrett Media
To view our Fair Processing Notice regarding data sharing, please click

 

HERE.
Click HERE for full Competition & Brands terms and conditions.
Click HERE for Neutradol's Privacy Policy.
Click HERE for Winning Moments Privacy Policy.