April is here and we've said a firm goodbye to dark nights, groggy mornings and the bitter cold (hopefully?), and we're ready to welcome sunny days, fresh mornings and a long summer!
So in this vital change of season it is key that our homes get some TLC in order to keep up with the new, airy feeling we're trying to welcome! There's a reason we call it a 'Spring Clean' and not an 'Autumn Clean', you know: people enjoy the symbolism of New Beginnings that Spring brings, and introducing that theme into your home feels great.
So, as the daunting task of tackling your house room by room looms over you, we're here to help: with some of our best tips and tricks to get the job done.
Start by removing excess crumbs, this can be done easily with the brush part of a dustpan and brush, as the handle allows you to reach the back of the oven a bit easier! Then, remove the racks from the oven and leave them to soak in hot soapy water. Now, mix a solution of bicarbonate soda and vinegar and, using a tough scouring sponge, get to work on all stains inside. After that, wipe through the insides with disinfectant and buff with kitchen roll. Return to the racks and scrub them, this should be easier after a short while soaking. Using an Oven Cleaning Spray can help cut through the grease. Dry and return to the oven. Wipe down the door seal (lots of dirt gathers here). Finally, grab a dry cloth and some glass cleaner and wipe the exterior glass.
Spruce up your Chopping Boards
We may be saying goodbye to Winter but it's not going without leaving some traces behind! One of those being the (not so) lovely discolouration on our chopping boards from all of those root vegetables we've been eating in our soups, stews and warm pies through those chillier months! Luckily for you, we're on hand with an easy solution (no pun intended) to help you get rid of those beetroot reds.
Firstly, sprinkle bicarbonate soda onto the discoloured areas, and using the cut side of a chopped lemon, work the bicarb into the stains. The lemon juice/bicarb combination will work the colour right off! Rinse with water and wipe with a sponge to bring up perfectly clean.
The fridge is always the dreaded beast to clean! But a tidy fridge is not only satisfying, but essential for a hygienic and healthy heart to your kitchen. Start by removing everything inside and taking a stock check of what is and isn't in date. Throw everything out-of-date in the bin.  Remove the shelves and drawers and leave them to soak in hot soapy water. Using a clean cloth and a household disinfectant spray, wipe out the insides of your fridge. Go back to your shelves and drawers and give them a good scrub.
(TOP TIP: using an old toothbrush can help you reach difficult spots at the back of the fridge and also help you get in the ridges and holes of the shelving and drawers too).
Dry them and return them to the fridge. Take a few disinfectant wipes and give all of your jars and tubs a once-over as you return them to the fridge (jars of jam and pickles and whatever else always get covered in a sticky residue that you don't want returning into your lovely sparkling fridge.)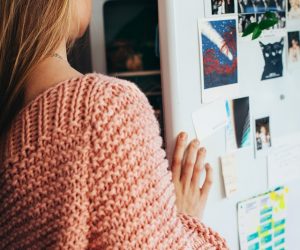 Liven Up your Living Room
Freshening up your Living Room ready for Spring can make you feel like your whole house has had an up-lift.
Start by removing all Wintery candles, wax melts and scents from the room and say goodbye until October. We'll be replacing them later. Next, grab a carpet cleaning powder* and sprinkle across the carpet and leave for up to 10 minutes. This can also be used on rugs and sofas for the same freshen-up. Whilst you leave this powder to sit for a while, remove any cushion covers and stick them on a low wash. Next, return to the powder and hoover up off of the carpet, rugs and sofa. TOP TIP: if you have a rug, make sure to flip it and hoover the under side too to freshen up the fibres. Dust the surfaces, return the cushion covers when they have dried again and you're almost complete!
Pick up some new, light and summery scents to keep in your living room, such as room sprays*, candles and diffusers. A shift in the smell of the room from heavy, spiced scents of winter to light and airy Spring smells will make all the difference.
For the finishing touches, mix up a solution of fabric softener and water into a spritz bottle and spray your curtains, sofas and any other fabrics in the room to leave it smelling divine!
*Want to win a bundle of Original Products from Neutradol?  Enter before 12th May to be in with a chance of winning: http://bit.ly/neuspringcompblog 
The thing about changing your bin over, is that we only ever do it when the old bag is full and it desperately needs doing! We rarely take the time to give our bin the TLC it deserves along the way.
But, we're Spring cleaning! So it's going to get done. Firstly, remove the bin bag and take your bin outside. Either hose, or pour, water into your bin with some washing-up liquid and sponge down the inside. Drain the liquid and leave to dry. Disinfect the outside and buff with kitchen roll.
Line the bin with a fresh bag, grab a Bin Odour Neutraliser, such as Neutradol's Bin Odour Destroyer, and sprinkle some in the bottom. As food piles up, sprinkle more on top and it'll help neutralise the smells throughout the week until you're ready for the next bin clean!
Wave Goodbye to Tough Stains
Do you feel like an unskilled contortionist when you're trying to crane your arm and hand into bizarre positions whilst trying to clean the inside of your microwave?  Bending to see the dried tomato sauce, then having to pat your hand around until you find the right bit and then scrubbing and hoping it comes off but it never does?
Well, no more! With this handy trick you'll be wiping away those stains in a flash.
Slice a lemon, put a few slices into a mug of water and stick it in the microwave and heat until the water is boiling and the glass is all steamed up. This will loosen everything on the inside, then all you need to do is grab a cloth and with a few swipes later your microwave's insides will be pristine.
To finish off, use some glass cleaner and a dry cloth on the door inside and outside.