Is the clutter from 2018 holding you back from organising your home?
---
Luckily, thanks to the KonMari Method, we are able to re-organise our homes with a 'spark of joy' to transform our lives. Marie Kondo, a tidying up specialist is transforming lives by sharing her Japanese art of decluttering. With the release of her new series "Tidying Up" on Netflix, Marie's method is inspiring people worldwide.
We'll be sharing our top tips over the new few weeks kickstarting with tackling your clothes! *hides*.
---
1 – Put All Of Your Clothes Onto Your Bed
First off, you might receive an initial shock seeing all of your clothes in one big pile.  Don't panic, we all go through this, it's part of the process! Marie Kondo's method is to hold each item to see if it sparks joy. If it doesn't spark joy, you know it's time to get rid of the item. Say thank you and let go. Make two piles; 1) That sparks joy and 2) That doesn't spark joy. If you are unsure about any items then these can be placed in a miscellaneous pile! You can come back to this later on.
---
2 – The Folding Clothes Technique
Photo credit : One Kings Lane Blogger
The KonMari method of folding clothes is the essential tool to organising your items to see what you actually own. When our clothing departments become seriously cluttered, it is hard to see what we have to work with. View Marie Kondo's YouTube video to watch how to fold your clothes.
http://bit.ly/MarieKondoFolding
---
3 – Use Boxes To Organise Smaller Items

Using small boxes can help you to create compartment spaces for your accessories or miscellaneous items. Start with organising your items in size order or by subject i.e hair accessories. We recommend popping boxes inside your chest of drawers or if there isn't enough room, use a box and label. It is always a good idea to re-use boxes from packaging or bought goods! Another effective way to recycle!
---
4 – Donate Your Clothes To Charity Or Sell Them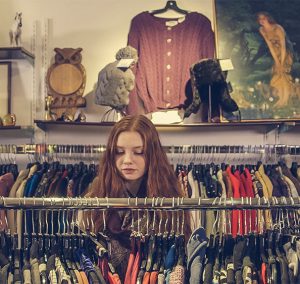 We recommend contacting your local charity shops first to see if they have the room for your donations. Ask local charities if they're in need of any specific items.  Alternatively, there are plenty of phone applications to sell your goods! We recommend an app called Vinted.  Vinted won't charge you for selling your items which means extra coins for you!
---
Don't forget to check our blog next week for tips on how to organise your Kitchen!